Brian hails from a family of skilled jewelry makers. His mother, Janta Yatsattie, was esteemed for her petit-point jewelry.

Brian initially pursued painting as his artistic passion, yet in 1989 he took up carving simply because it "looked fun".

After moving to San Felipe Pueblo in 1992, Brian now also imparts his skills to others as he carves unique Zuni fetishes with a distinctive style that is both straight-forward and appealing to a broad steam of buyers and collectors.

His one-of-a-kind and custom Zuni carvings are both stylish and straightforward, making them irresistible to a wide range of buyers and collectors.

He is an incredibly inventive and talented carver.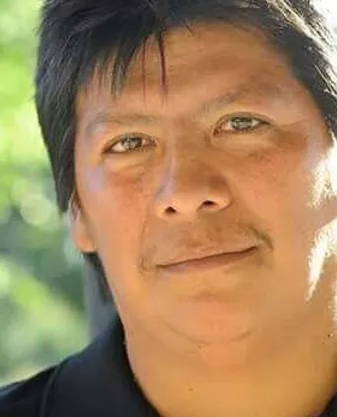 Brian Yatsattie - Zuni Carver

Zuni fetishes are small carvings made from various materials by the Zuni people. These carvings have traditionally served a ceremonial purpose for their creators and depict animals and icons integral to their culture. The earliest of these animal carvings, found in ancestral Puebloan sites, date back centuries.
Traditionally Zuni fetishes were carved from bone, antler, horn, shell and wood as well as stone. For today's commercial trade, artists most frequently carve from stone, although antler, horn, shell and occasionally fossilized ivory are sometimes used.

In Zuni culture, six directions are recognized—the four cardinal directions as well as "upper" and "lower." Each of these directions is represented by a sacred mountain, a color, and a particular animal.

North is the yellow mountain lion
West, the Black Bear (represented by the color blue)
South, the Red Badger
East, the White Wolf
The sky or "upper" is the multi-colored Eagle
The Underground or lower is the Black ole

In addition to these six animals, many other animal forms are carved, including amphibians, reptiles, and fish as well as birds and mammals. Add to this a Zuni repertoire of many stones of wide-ranging colors and it becomes easy to understand why collecting Zuni fetishes is growing.

Your purchase helps support a Michigan Small Business


We ship out most items the same business day! Get it Yooper fast!


Brian's carving work is remarkable. Legendary!

Secure one-click checkout with these payment options
Secure one-click checkout with these payment options