2022 Yooperlite Tours - find Yooperlites at night on Lake Superior
2021 Yooperlites Experience Tours have completed. Look for 2022 tour details shortly!
Lake Superior is calling you
The experience of finding Yooperlites with Erik and a few like-minded rockhounds will be something you won't forget.

Imagine yourself there now, on Lake Superior as the sun sets on a summer evening, as the beach begins to glow.

No doubt, it will be the highlight of your time in Michigan's Upper Peninsula. Make new friends & new memories this year!
We have a passion for rocks. Finding them, displaying them, and showing them to all our friends! And if you don't, you know someone who does!
To us, it's more than just a hobby, it's an obsession.

The nighttime experience of finding a Yooperlite on Lake Superior is second-to-none. Rediscover the magic you witnessed when you held your first Yooperlite, and watch them glow again, on the shores of Lake Superior!
---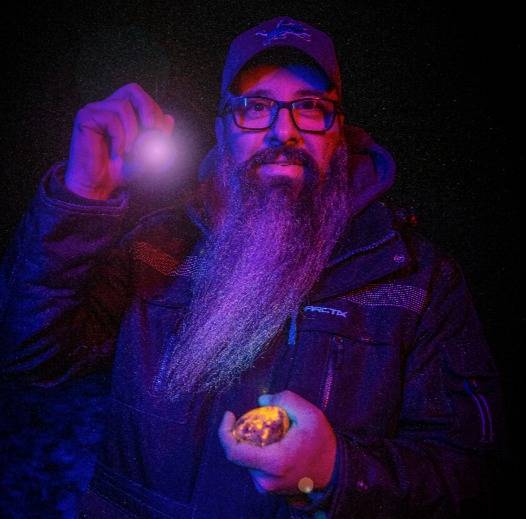 Erik Rintamaki is a life long rock hound from Brimley Michigan. In 2017 he was picking the shores of Lake Superior at night using longwave UV lights, and made the discovery of a lifetime! Every rock pickers dream is to find something new and Erik did just that. What Erik found was later tested and verified to be Syenites rich in fluorescent Sodalite, which he branded Yooperlites. With testing done by the Michigan Mineralogy Project, they concluded that this find was the first verified occurrence of fluorescent Sodalite in Michigan.

In May of 2018 Erik was credited with the discovery in The Mineral News. In July of 2018 Erik had a Yooperlite picking video go viral around the world with tens of millions of views.

Yooperlites have now become a worldwide phenomenon with thousands of articles and news stories written about them. In 2019 Erik and Yooperlites were featured in both the April and May issues of Rock & Gem magazine, and PBS did a documentary as well. Erik was also featured on the Travel Channel show Paranormal Caught on Camera. Erik now runs Yooperlites.com and travels the world sharing his passion for Yooperlites with young and old alike.